Recipe from Savoring the Thyme, posted with permission.
This past Wednesday, my friend Dawn took a short nap before we headed to the beach to play with the kids. Seeing that she was napping and I had snacks on the go on my mind, I decided to whip up a gluten free snack that Dawn could eat, that we could toss in some baggies and take to the beach.
I grabbed a few nibbles we had around the kitchen and set to work making a fun snack.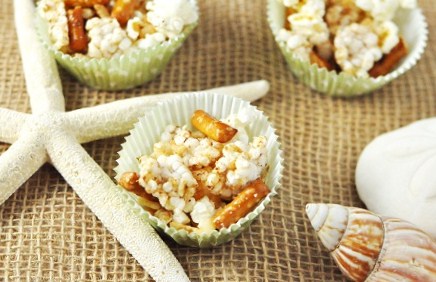 Gluten Free Baked Rice Cake and Popcorn Snack Mix with Garlic & Parmesan (makes 5 cups)
Ingredients:
3 brown rice cakes, broken into bite-sized pieces
2 cups of plain fresh popcorn
1 cup pretzels sticks, broken into bite-sized pieces (gluten free available)
1 cup brown rice cereal
2.5 tablespoons butter, melted
3/4 teaspoon garlic powder
freshly grated Parmesan
Directions:
1. Preheat oven to 300 degrees F. Place a sheet of parchment on a baking sheet
2. In a large bowl, combine rice cakes, popcorn, pretzels and cereal and mix well.
3. Place butter and garlic powder in a small pan and gently heat over low heat.
4. Pour butter over the rice cake mixture, toss well and pour onto baking sheet. bake for 15-20 minutes. Shred Parmesan over the baked snack mix, allow to melt for 5 minutes and enjoy.
By the way, Dawn left today but before she did, we had a fun photo-shoot on the front porch. Miss you already Dawn!
About the Author
Jennifer from Savoring the Thyme is a New Englander who discovered her passion for Science at a young age and her passion to be a Stay at Home Mom and Foodie a bit later. Learn more at Savoring the Thyme.