Recipe from Sensibly Sara, posted with permission.
While I was at Disney World, I saw gingerbread popcorn in several gift shops. It looked really good so I broke down and bought some. After tasting it, I knew I had to re-create it at home. I mean, who can resist Christmas flavored popcorn?!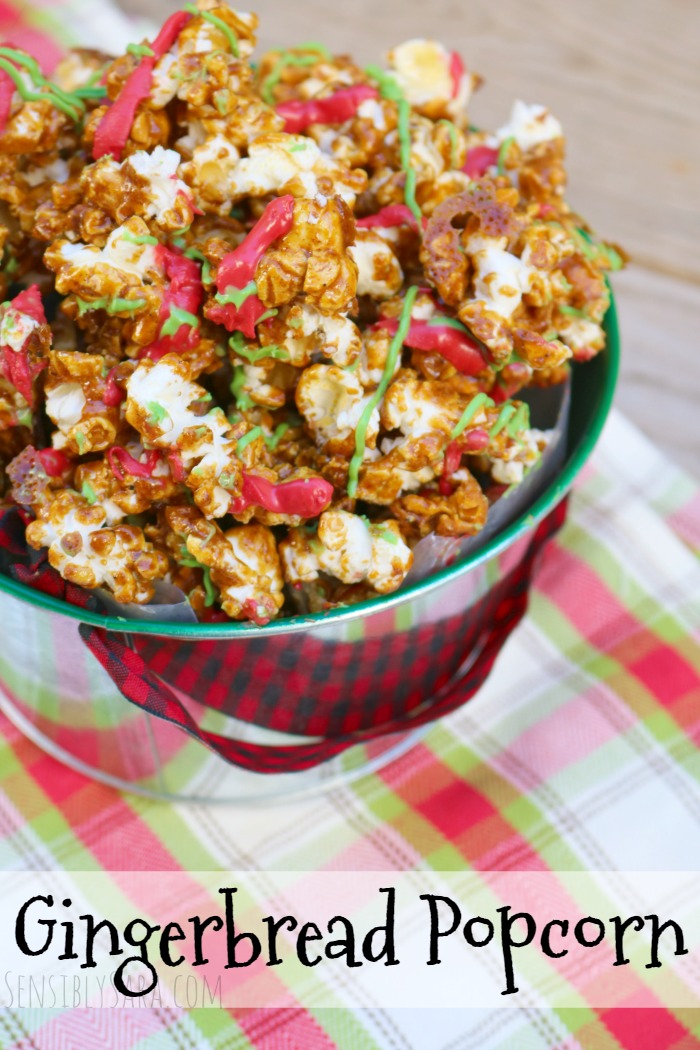 Ingredients
1 bag Homestyle popcorn
½ cup butter
¾ cup brown sugar, packed
¼ cup molasses
¼ cup corn syrup
½ tsp ground ginger
½ tsp cinnamon
½ tsp ground cloves
¼ tsp salt
1 tsp vanilla
½ tsp baking soda
Instructions
Preheat the oven to 250 degrees.
Pop the popcorn and pour it into a large bowl.
Prepare a large cookie sheet with a silicone baking mat.
In a saucepan, melt butter, brown sugar, corn syrup, molasses, ground ginger, cinnamon, ground cloves and salt.
Bring the mixture to a boil and keep it there for about 5 minutes, stir constantly.
Remove the mixture from heat.
Add the vanilla and baking soda. (The mixture will get very light and fluffy!)
Immediately pour the sauce over the popcorn and toss well.
Pour the popcorn on the cookie sheet and place in the oven for an hour.
Every 15 minutes, toss the popcorn to prevent it from burning.
Let cool for about an hour before drizzling the Wilton coating over the popcorn.
Gently break the popcorn and store in an airtight container.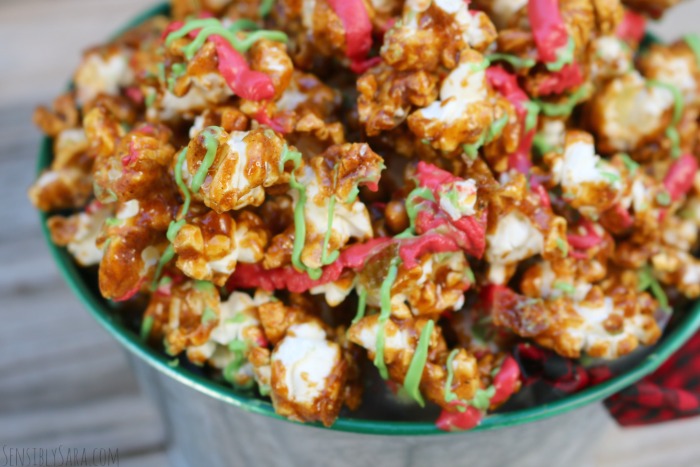 While my gingerbread popcorn re-creation was good, it definitely wasn't Disney's. My family thought the Gingerbread Popcorn recipe was absolutely delicious, though. I think it would make a great gift for teachers or friends, too.
About the Author
Sara is a San Antonio based lifestyle blogger who lives with her husband and two boys. She enjoys travel, food, DIY, photography, spending time with her family … and SO much more! Learn more about her on Sensibly Sara.