Recipe from Savoring the Thyme, posted with permission.
I admit it, this may be a bit on the frisky side of snacking considering I am about to share some healthy snacking tips but honestly, this is a healthy snack.
Now is when you belt out 'What you sayin' Jennifer?!' Yes, well, I know you all get a few sugar cravings once in a while so I say indulge a little with pretzels, cranberries and dark chocolate. Now try to fault me.
Before you get a tasty recipe, let's review some Healthy Snacking Tips:
*As with all grocery shopping, always shop the perimeter of the grocery store. That is where fresh foods like fruits and vegetables are usually located. Avoid the center aisles where junk foods lurk.
*Choose "real" whole foods, with as little processing and as few additives as possible. If you want more salt or sugar
*Keep fresh fruit and veggies on the counter or visible when you can: Keep them washed, cut, and stored in a clear plastic container or on the table where you can see and grab it (bananas, apples, cuties).
*Hummus, mustard and low-fat ranch dressing are great dips.
*Low-fat yogurt: Mix fresh fruit into vanilla or plain yogurts.
*Low-fat cheese: reduced-fat block cheeses, reduced-fat string cheese, laughing cow minis, and part-skim shredded cheese.
*Boiled eggs: A quickie and a favorite.
*When you want a salty snacks, grab some pickles or pretzels.
*Applesauce: Look for an unsweetened brand.
*Nuts and seeds: Go for almonds, pumpkins seeds and sunflower seeds.
*Some of my favorite grab-n-go snacks include string cheese & crackers/rice cakes and almonds & dried cranberries.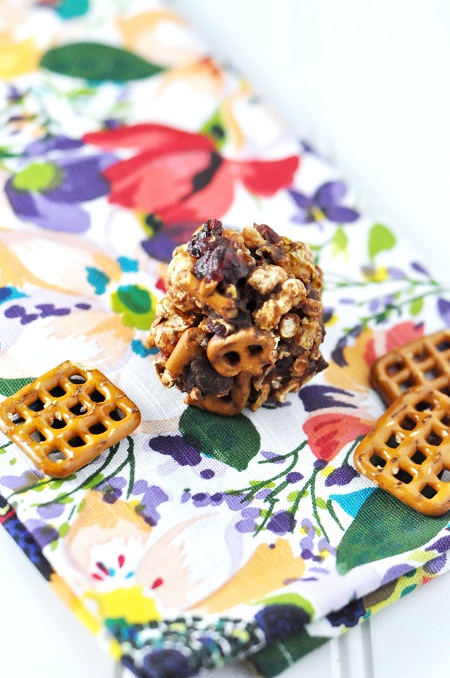 Dark Chocolate Peaut Butter Pretzel & Cranberry Popcorn Balls
Yield 15 (1 1/2-inch) balls
Adapted from EatingWell
Ingredients:
6 cups fresh popcorn, unsalted and unbuttered
1/4 cup agave nectar
1/4 cup creamy natural peanut butter or sunflower butter
1/3 finely chopped dried cranberries
1/3 roughly chopped dark chocolate
3/4 crushed pretzels (I used Snyder's of Hanover Snaps)
Directions:
1. Pop popcorn and set aside. Line a baking sheet with parchment or wax paper and prepare a medium bowl of ice water (yes, ice water).
2. In a small non-stick pan, combine agave and peanut butter and heat over medium heat, stirring constantly. Once the mixture starts to bubble, remove it from the heat but continue to stir for 10-15 seconds.
3. Quickly pour the mixture over the popcorn and gently mix with a wooden spoon or plastic spatula until evenly coated. Gently stir in chocolate, pretzels and cranberries.
4. Dip both hands into the ice water, shake off excess and then form balls, pressing the popcorn mixture firmly. Place the balls on the baking sheet and repeat.
5. Once the popcorn balls are cool, place them in the refrigerator for a hour to set. Once you remove them from the refrigerator, individually wrap in plastic wrap and store in an airtight container.
About the Author
Jennifer from Savoring the Thyme is a New Englander who discovered her passion for Science at a young age and her passion to be a Stay at Home Mom and Foodie a bit later. Learn more at Savoring the Thyme.